My name is Adam James Lamagna (last name sounds like lasagna). Some of my friends call me A.J., while others call me Adam. I don't have a preference. However, I do believe in inclusion; so I want those around me to feel like what they choose to call me is okay with me. Which is why I usually refer to myself with my first and middle names.
What I do…
I'm a senior digital strategist based in Providence, Rhode Island. I have a decade of experience in the tech industry working on a multitude of projects and products in capacities that range from business development to senior-level strategic planning. Being a strategist means I get to disentangle the relationships between brands and their users, and find better ways to bring them together. I have a deep understanding of the complexities of digital strategy that go hand-in-hand with business strategy. My one true love is the discipline of account management…and my rescue dog, Mia.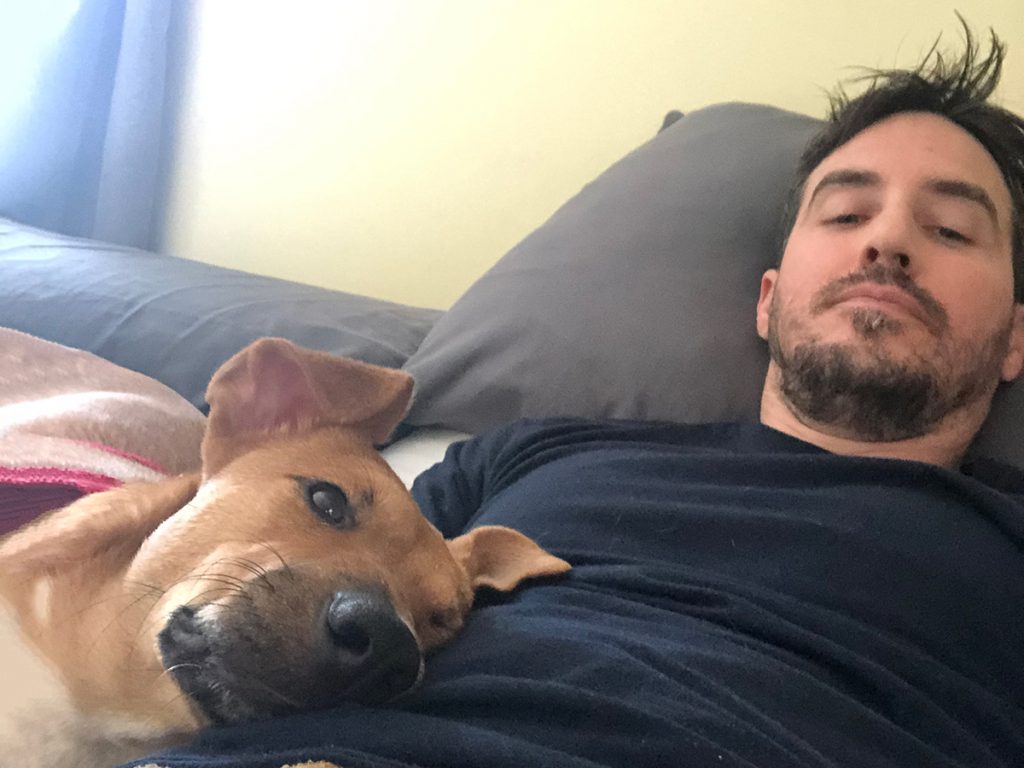 There's so many facets to being an account manager – I am a strategist, project lead, researcher, analyst, salesperson, business consultant, and confidant. Nurturing client relationships involves a great deal of empathy, flexibility, and determination.
Since starting in tech, my purpose has been to help clients find the right balance between design, technology, and business. I'm also very passionate about digital strategy which is why I host and produce this podcast: unSTRATEGIC. I'm always working on delivering better strategy resources to aid with strategic needs for agencies, consultants, strategists, account & project managers, and business owners.
What I have done…
Before this, I worked as the Director of Digital Strategy managing a team of web and content strategists for a hotel tech provider. I moved up through the ranks from Digital Strategy Manager engaged with dozens of hotels to increase their revenue and visibility through strategic web initiatives. I've also run design sprints for a mobile app company to build user-centric digital products. I worked as an account manager with agencies and companies to protect their websites from hackers. And I previously scoped, proposed and presented open source digital solutions for clients of a high-end web firm based in Providence.
In my previous life, I learned how to build homes from the ground up. Well, technically, I started out as a roofer, then moved into rough framing and foundation work. But I enjoy working with my hands; building something can be a very calming and gratifying exercise. Before construction, I worked in a number of sales roles from high-pressured inside sales to door-to-door sales. All of these roles have helped in establishing my account management style now.
What I believe in…
I believe in craftsmanship; whatever you choose to do – do it well. Unless you're just starting out – then just give it an honest shot! I enjoy working in a fast-paced collaborative environment with hard-working people. I push myself, although not too hard these days because I've discovered that the process of meeting your goals is oftentimes more important than the goal itself.
Laughter really is the best medicine (my crow's feet proves it) – smiling is something that everyone should do multiple times a day. My values include integrity, creativity, flexibility, and community. Personal growth is important to me; I take time out of my day to challenge my thoughts, understand my decision-making, and find better ways to communicate to those around me.
Life is good: I have a loving family, close friends, and work that I enjoy. I'm always on the lookout for more challenges — so if you need a strategist to tackle a complex problem, have an idea for a great app, or just want to talk tech—drop me a line!